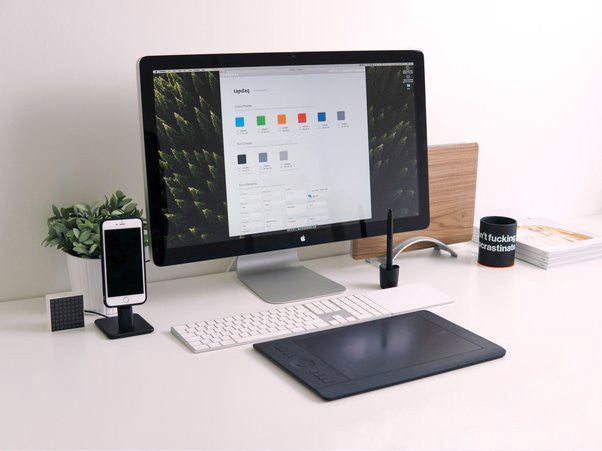 How to choose the Right graphic tablet?
While every Graphic tablet may have comparable benefits, not all tablets are created equal — so which tablet is best for drawing & art?
The cost of a Graphic tablet can vary greatly — flat tablets (no screen) will be much cheaper than those with a display.
Additionally, some of them are more precise and with a larger drawing area, while others are small and basic in specs.
So the first choice you need to make is to decide whether you want a simple graphic tablet (without screen) or a pen display (with the screen) or a tablet computer.
Once you've made this decision, then the next step would be to focus on key features and functionalities you're looking for.
There are various things you need to keep in mind as a graphic designer when buying your first graphic tablet, but the key ones are:
Active area
Pressure sensitivity
Resolution
Hotkeys
Stylus
Scrollers
Connection
Now, let's shortly discuss these things one by one.
1. Active Area
A smart move is to think about the screen size prior to purchasing your graphic tablet.
Some of the fore mentioned graphic tabletscome in multiple sizes, while others don't.
So make sure you choose the size that best fits your needs because the last thing you'd want to happen is to end up with disappointment.
2. Pressure Sensitivity
Everyone has a different drawing or illustration style, so depending on yours, you may want to choose a graphic tabletwith an ultra-sensitive and responsive surface.
Pressure levels on graphic tablets start at about 300 levels of pressure and go up to around 3000.
The optimal pressure level to look for on a graphic tablet is around the 1,000 range.
3. Resolution
Picking agraphic tablet with a high LPI would be better for you if you work in a sector where you need to produce very high-resolution images or sharp graphics.
Think about LPI(Lines Per Inch) the same way people think of the resolution of 4K seen on TVs and computer monitors.
4. Hotkeys
It's becoming more and more popular to see Graphic tablets that come with HotKeys built right into is (also known as shortcut keys).
These extra keys that are usually on the side are designed to help you save time and streamline your work process.
Instead of manually switching between tabs, apps, or simply selecting brushes in Photoshop hotkeys will help you save a lot of time.
5. Stylus
Stylus (pen) comes in two forms: battery-operated (AES) and electromagnetic resonance (EMR), but they're both designed to mimic the feel of pen on paper.
EMR styluses can quickly discern between pen and touch inputs, and this makes for a very smooth pen experience.
AES styluses have significant performance advantages over EMR, though require some getting used to and compensation.
6. Scrollers
Moving around the screen on your graphic tablet using a stylus can be inefficient especially if you work on large artwork using a small graphic tablet.
Thankfully, many graphic tablets have a scroller built into it, so that you can zoom in and out, and move around your artwork quickly.
7. Connection
Graphic Tabletscome in two forms of connection: regular corder one, and wireless Bluetooth connection.
While a wired graphic tablet won't present any connectivity issues and will be cheaper, it might be frustrating always having to connect the cables.
Wirelessgraphic tablets, on the other hand, will give you the freedom of movement that a corded one definitely won't.
However, I have reviewed them all, so whether you are a beginner or a pro — I hope you'll find something interesting.